Louise's Trip to Watch the Cubs Play at Wrigley
Follow Us
Follow our latest stories on Facebook.
Donate Here
Click the icon above to donate to One Dream.
Louise has lived on the north side of Chicago for most of her life, and has always been a diehard fan of the Chicago Cubs. Her father took Louise and her four sisters to Cubs games growing up whenever he could afford it. As an adult, Louise was able to go more frequently because she could attend Ladies' Day on Fridays for just 25 cents!
Louise currently lives in Norridge on Medicaid at a continuing care retirement community called Central Baptist Village. She doesn't miss a game on TV, but says nothing's like being there in person.
Louise's dream was to go back one more time. She said she'd also love to see her name up high on the board, and that she'd love to bring her roommate and best friend, 97-year old Lori Burocki, who is also a Cubs fan.  She said, "I know it's a stretch, but it could be my last chance to catch a game, and I've been a true and dedicated fan all my life."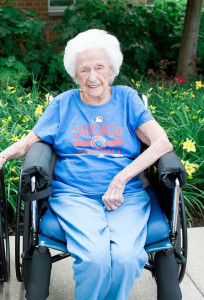 Louise's Dream Come True at Wrigley Field
Louise's dream came true on June 25th, 2015, when the Cubs played the Los Angeles Dodgers. The adventure started at Central Baptist Village, where Louise lives. Louise and her best friend and roommate, Lori, went down to the common area to find that all their friends and neighbors were gathered to celebrate the dream come true! Cubs Blue and Red was everywhere. Joanne, Marjorie, and Diane, three of Louise's daughters, were ready and waiting to join in the fun. There was even a slideshow featuring all the players from the team. Louise and Lori were showered with excitement and anticipation for their trip to the game.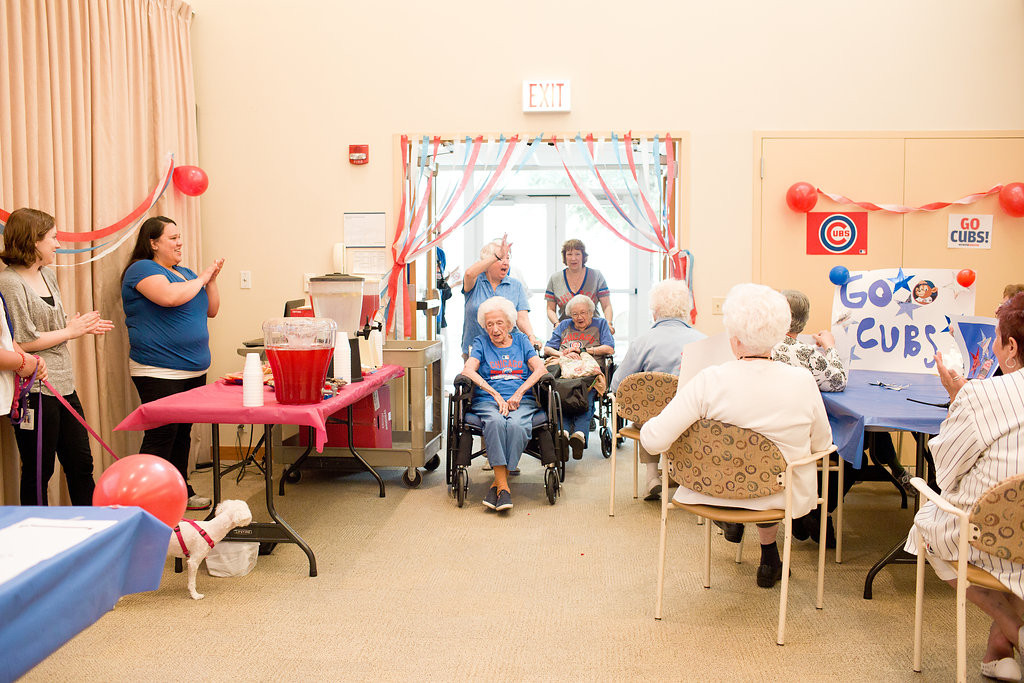 Soon, all the seniors moved into the hallway to see the group off. They all lined the hall and sang "Take Me Out to the Ballgame" as Louise, Lori, and Louise's family walked through the crowd like a parade!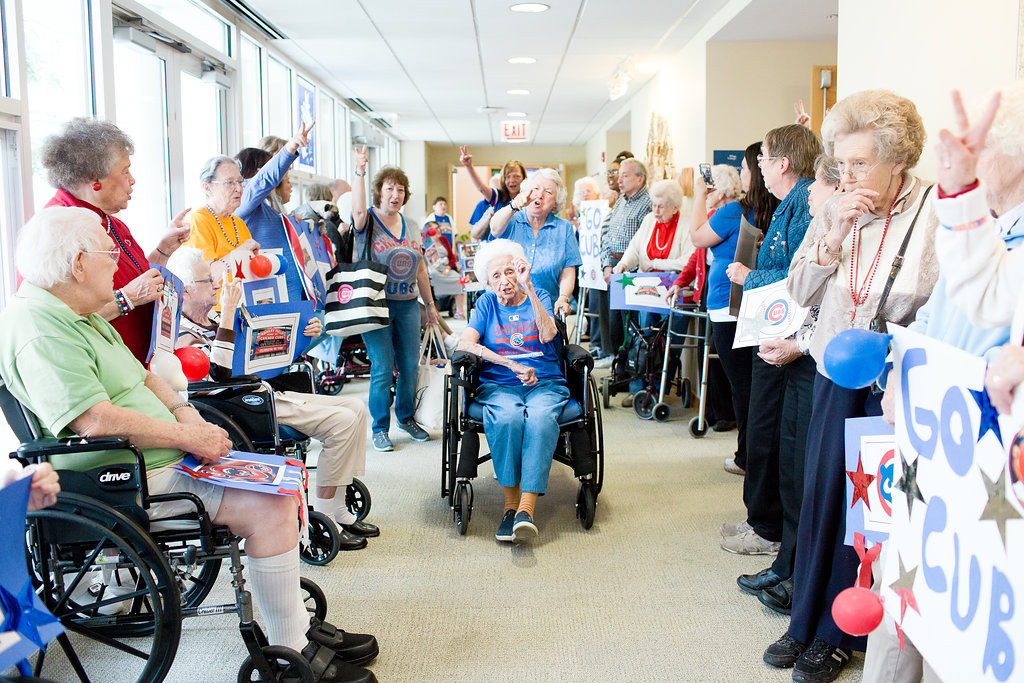 At the end of the parade, a white stretch limousine was waiting to give them a ride. Everyone piled in, and they hit the road.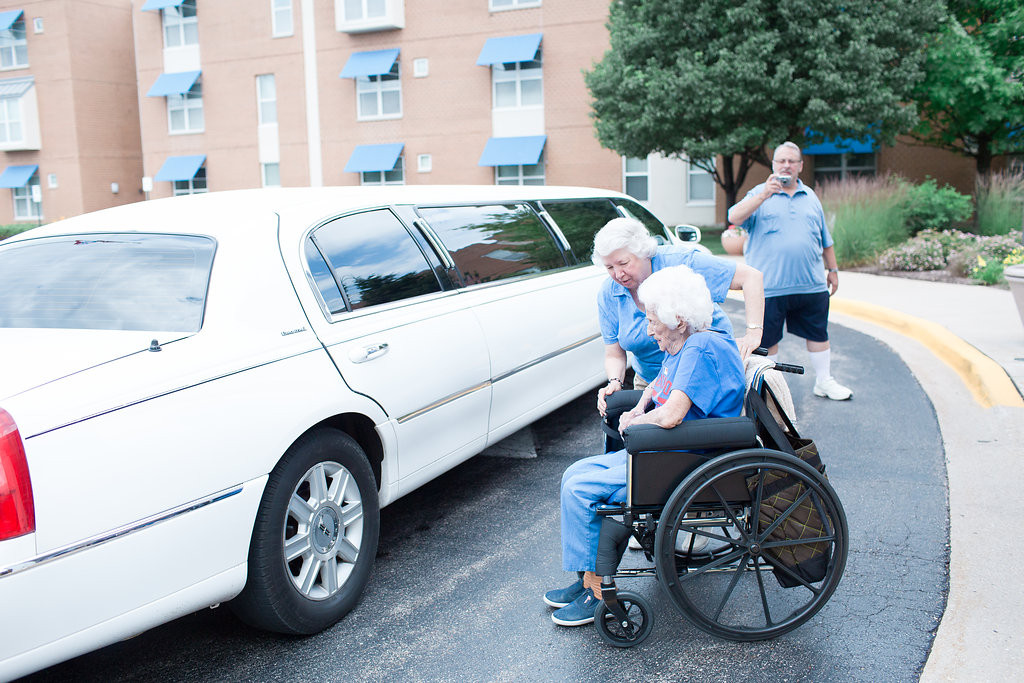 Once they got to the ballpark, Louise's crew was greeted by Brittany Burcham and the rest of the Community Affairs team for the Chicago Cubs. They were incredible. They did everything they could to make sure Louise and Lori were treated like royalty. First things first, everyone had to put on their VIP pre-game field-access badges!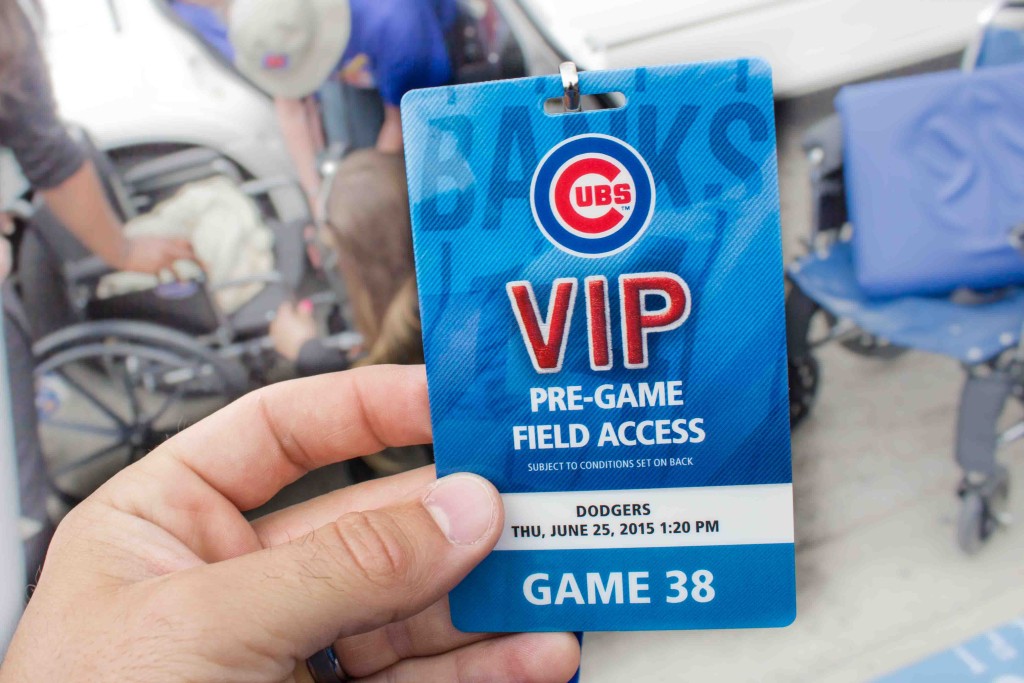 With their VIP passes in hand, the group was escorted into a passageway under the stands and out through a huge doorway that led directly into right field. Our ladies were in the outfield! They couldn't believe it. They got to feel the finely-manicured grass, touch the iconic ivy, and wave to all the fans in the stands. To top it all off, Louise took a piece of Wrigley home with her: a little bit of dirt from the warning track, funneled into an empty water bottle.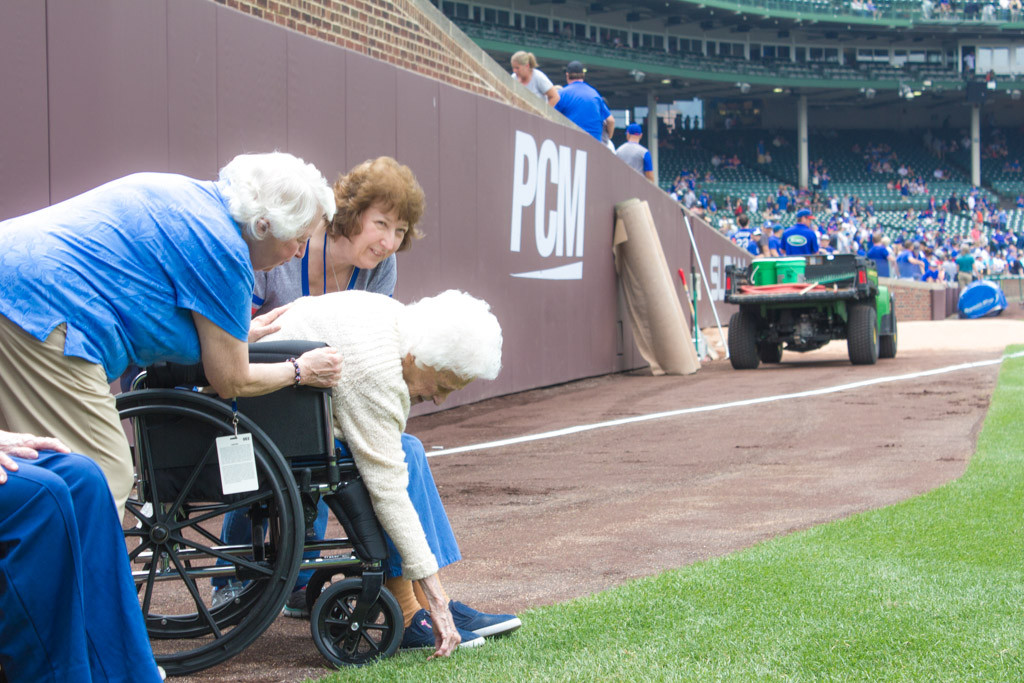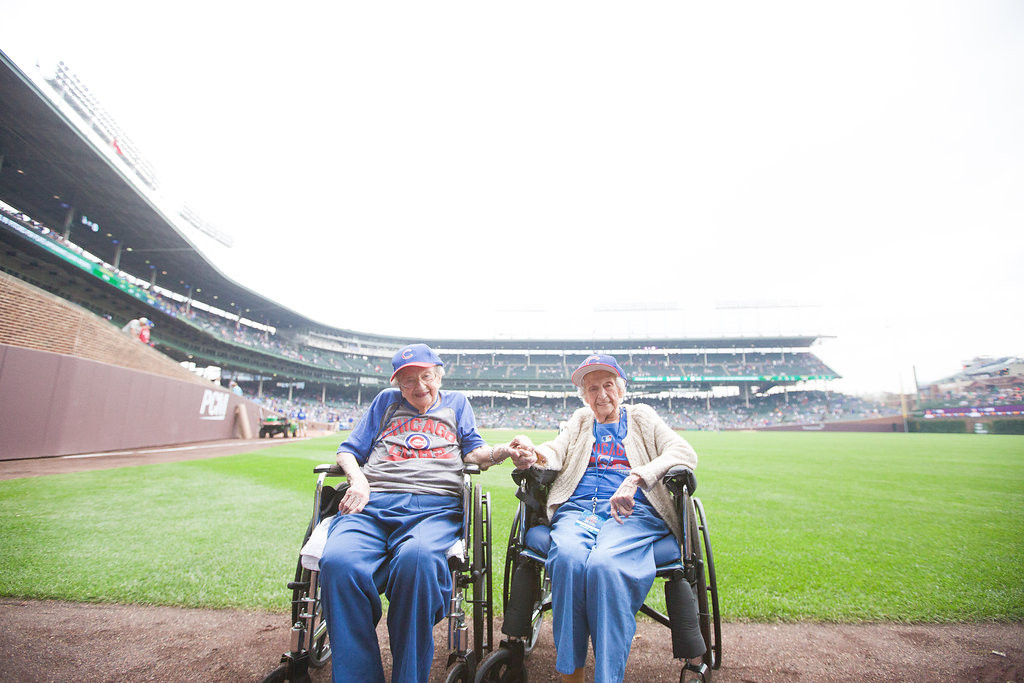 Next, everyone worked their way through the crowd and up to their seats. Louise had previously told us that the best seats in the house were "high up behind third base where you can see the whole field," so that's exactly where she sat! Before they left us, the Cubs Community Affairs team gave Louise and Lori a very special gift: they each received a big photograph taken before the game, when each of their names shone bright yellow on the famous Wrigley Field marquee! They said they're going to frame those photos and hang them side-by-side in their room.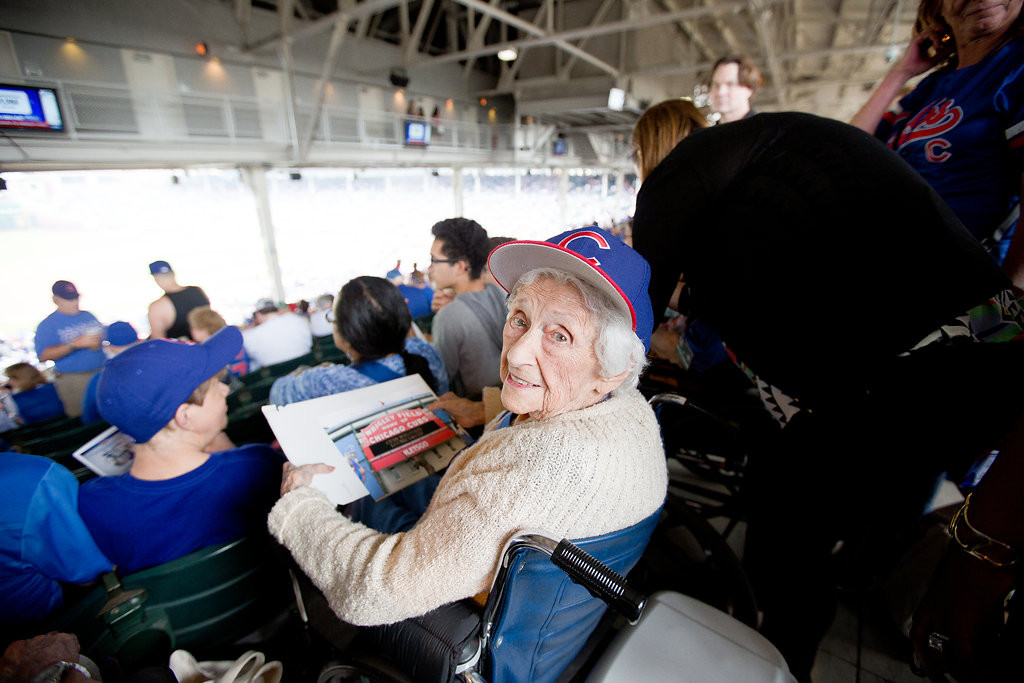 After The Star Spangled Banner, the game began. It wasn't long before Louise got to enjoy one of her favorite baseball pastimes, junk food! She enjoyed a dog and some popcorn while she rooted for her Cubbies.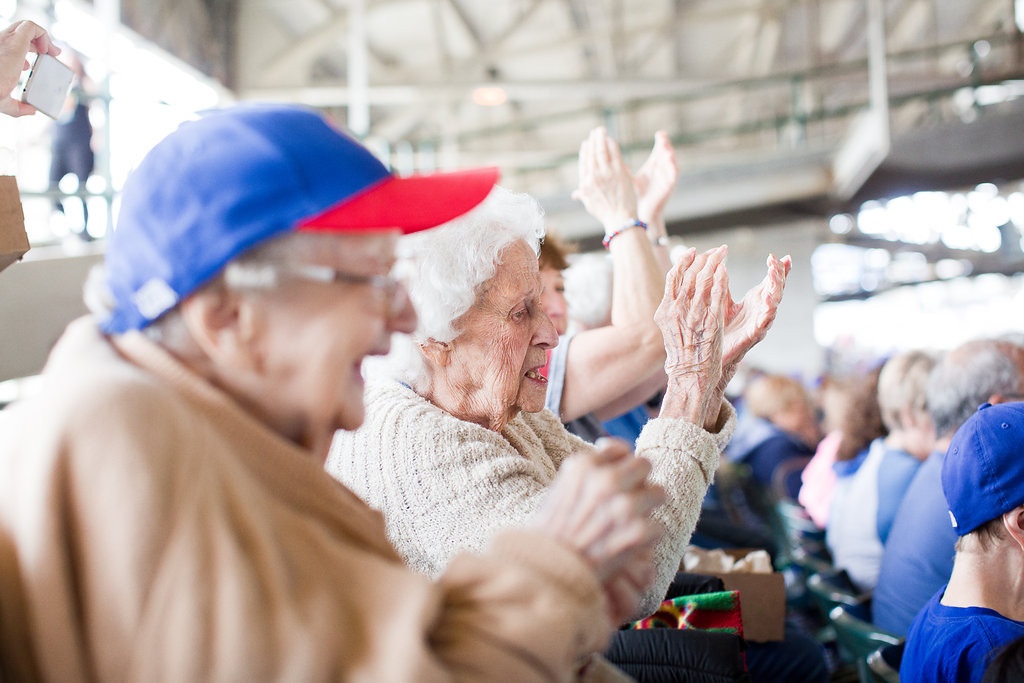 A cameraman came to shoot some video of the group in the 4th inning. A few minutes later, Louise and Lori could be seen on the brand new jumbotrons in the outfield. They looked like giants above the ant-like fans in the bleacher seats!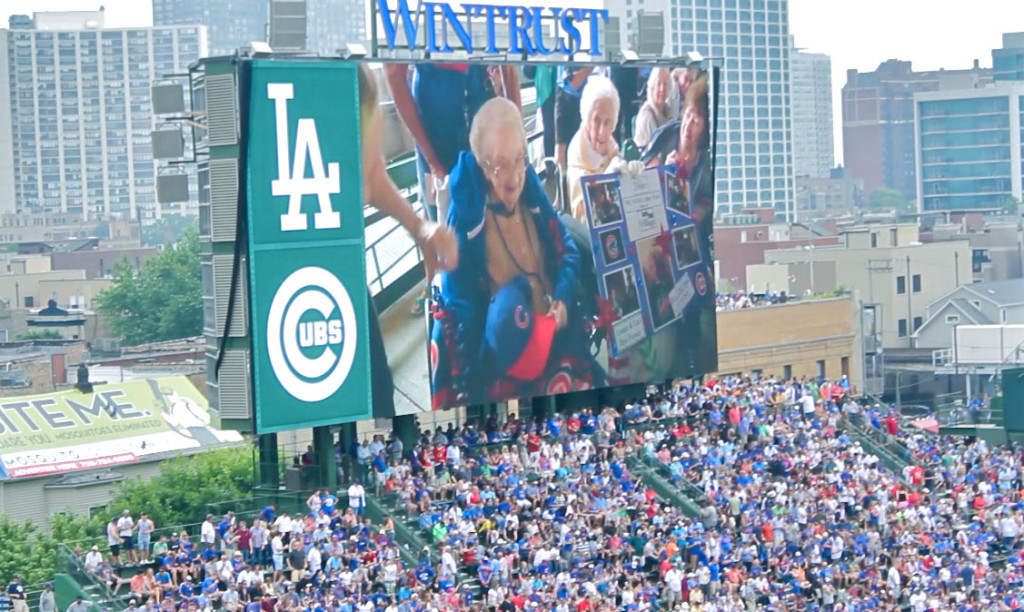 The 5th inning is when the outfield jumbotrons announce all the special guests at the game, so it was time to take the ladies upstairs to get a better view. It's too bad they left when they did, because Tom Ricketts, the owner of the Cubs, stopped by to say hello a few minutes later and he just barely missed them. Still, Louise dreamed to "see her name up high on the board," and that dream came true!
The final highlight of the day was watching Louise sing "Take Me Out to the Ballgame" during the 7th inning stretch. Boy, did she sing her heart out. All her passion and support for the team wasn't enough to score a run though, and the Cubs lost the game 4-0. Even with that minor setback, we're pretty sure Louise still considers the day a dream come true. The smiling, exhausted ladies took their stretch limo back home to tell everyone about their amazing day.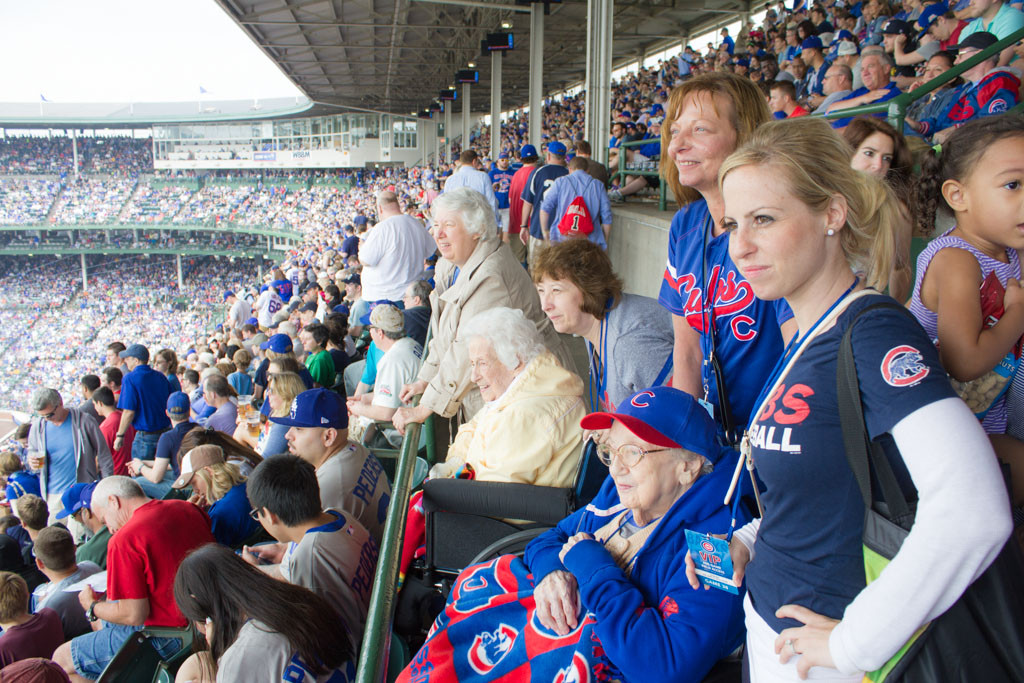 More Photos of Louise's Trip to Wrigley Field
Thank you to the Chicago Cubs for donating tickets to the game. Special thanks to Brittany Burcham, Connie Falcone, Tom Ricketts, Reed, Bud, and everyone else who went the extra mile to give Louise and Lori a special day. You made the experience so much better than we ever expected.
Thanks to Central Baptist Village in Norridge for donating a nurse caretaker's time for the day. Kathy Sweezy, the caretaker, was a lot of fun, and we could tell she cares a lot about Louise and Lori.  Thanks to the team that organized the party and send-off parade for Louise and Lori too. What a blast!
Finally, thank you to the many generous online donors whose contributions made this event possible. Thank you all!
---
Ferda Adkins
Adam Benwitz
Linda Benwitz
Tiffany Bloshenko
Inez Carrasquillo
Linda Casserly
Robert and Diane Chandler
Jody Chandler
Rosemary Deahl
The Evangelista Family
Fran and Chuck Frandson
John Hanson
Rick and Mary Hoehn
Richard Hoehn
James Huber
Katie Koval
Joanne Krajecki
Jody Miller
Ryan Niemeyer
Rhonda Nystrom
Pat Pfaller
Michael Pohl
Joseph Riley
Laura Rowe
Linda Sawyer
Courtney Thomas
Kathleen Thuemling
Leonard Zaw
Donate Here
Click the icon above to donate to One Dream.