Nick and Lou at the Chicago Crosstown Classic
Donate Here
Click the icon above to donate to One Dream.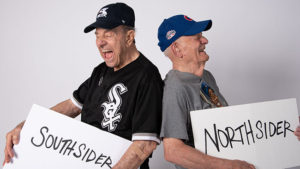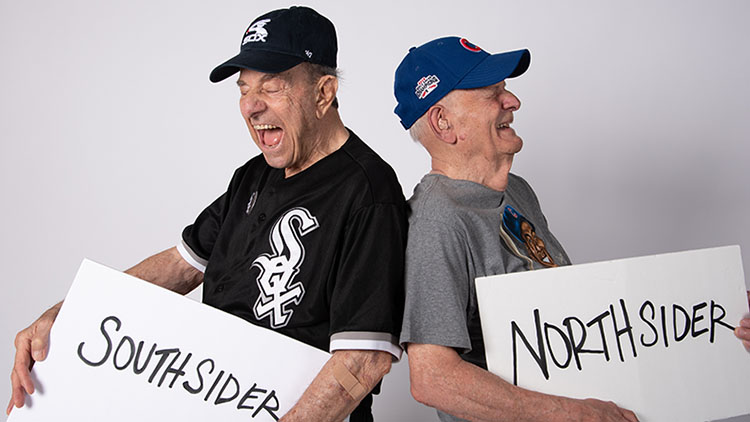 Nick and Lou, the best of baseball friends and rivals!
Chicagoans have to choose between the Cubs and the Sox. Being a south sider, 90 year old Lou Dodaro is Sox all the way.
When he moved to Central Baptist Village he met his new best friend, the avid Chicago sports fan 92-year old Nick Scarpelli, a Northsider with unswerving loyalty to the Chicago Cubs. Lou and Nick were both born and raised in Chicago. They're great pals who enjoy watching sports together and rib each other about their teams, but in the end Lou and Nick both agree, any win for Chicago is a good thing.
Dream Come True at The Crosstown Classic at Guaranteed Rate Field:
Lou and Nick had One Dream – and that was to attend The Crosstown Classic together at Comiskey Park (Lou won't call it anything else) on Sunday, July 7th and to each bring a family member with them make it a perfect day!  That's exactly what happened.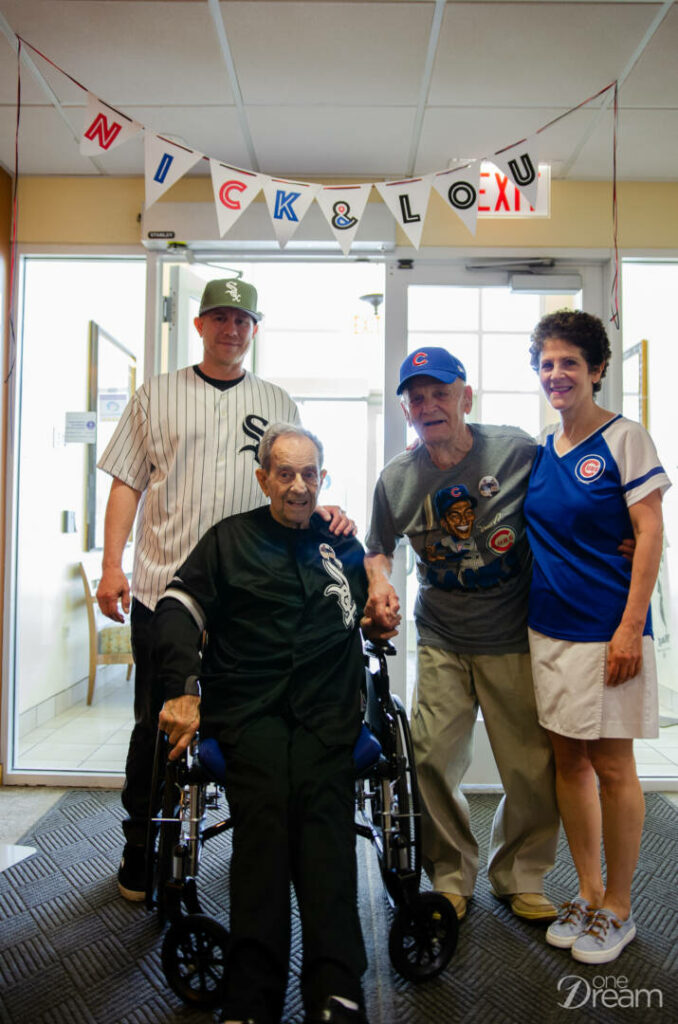 The morning of the 7th, Nick and Lou were cheered on by fellow residents and Central Baptist Village staff as they exited their home. To their surprise, they were greeted with a stretch limo!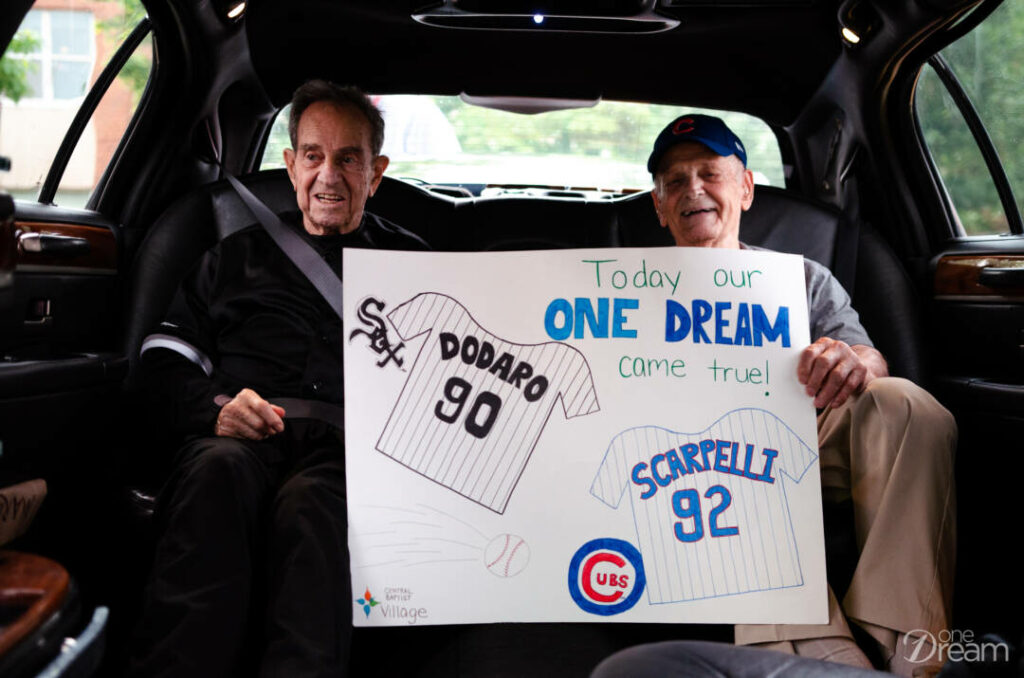 They sang "Take Me Out To The Ballgame" and cracked jokes with one another as they made their way to the south side.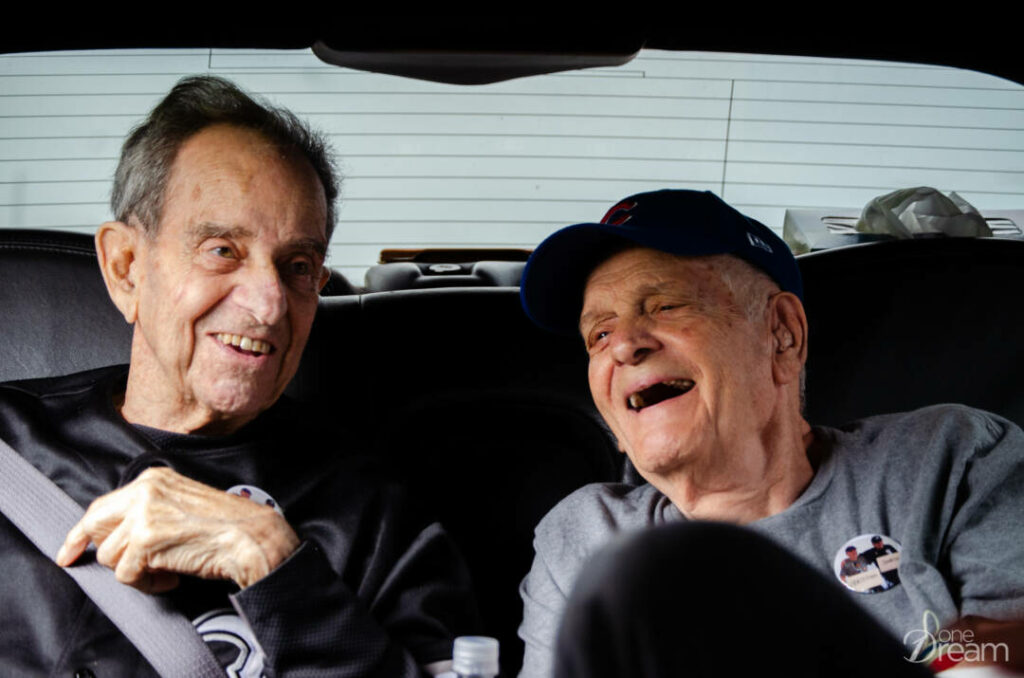 Upon arrival, the group was greeted by Sox staff members and were given badges to enter on to the field.  As Nick and Lou entered the grass, they were greeted by baseball legends and hall of famers Lee Smith, Ron Kittle and Harold Baines who presented them with personalized jerseys.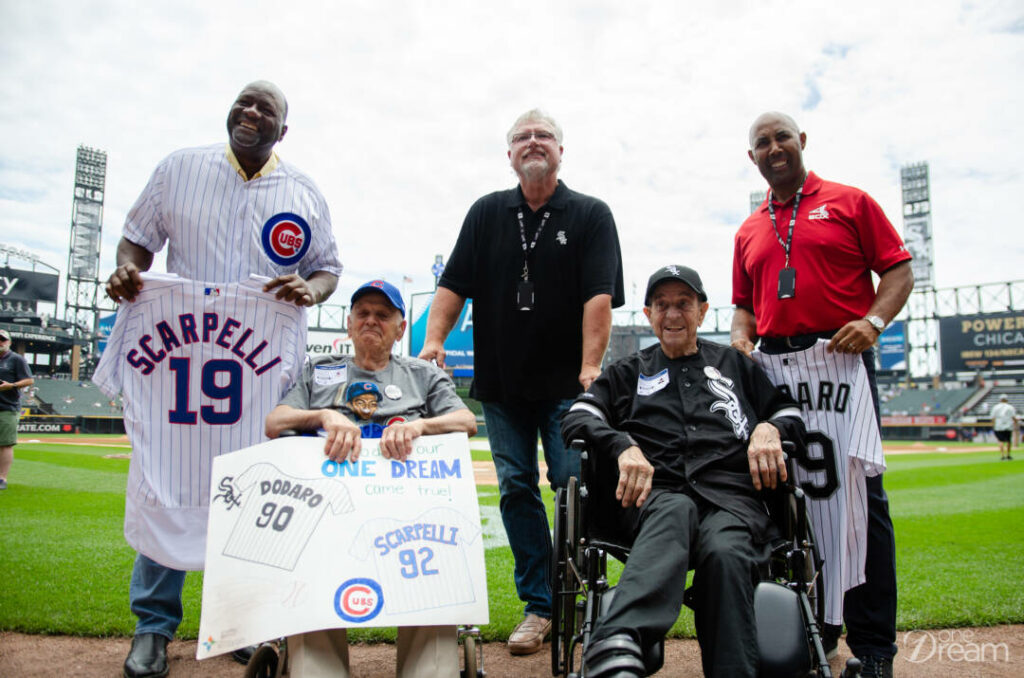 At their seats, they enjoyed Chicago hot dogs and cheering for their teams.  They were interviewed by NBC Sportscaster Kelly Crull and were aired on live TV!!  They were also featured on the jumbotron.  In the end, the Sox beat the Cubs, and both Nick and Lou had a blast!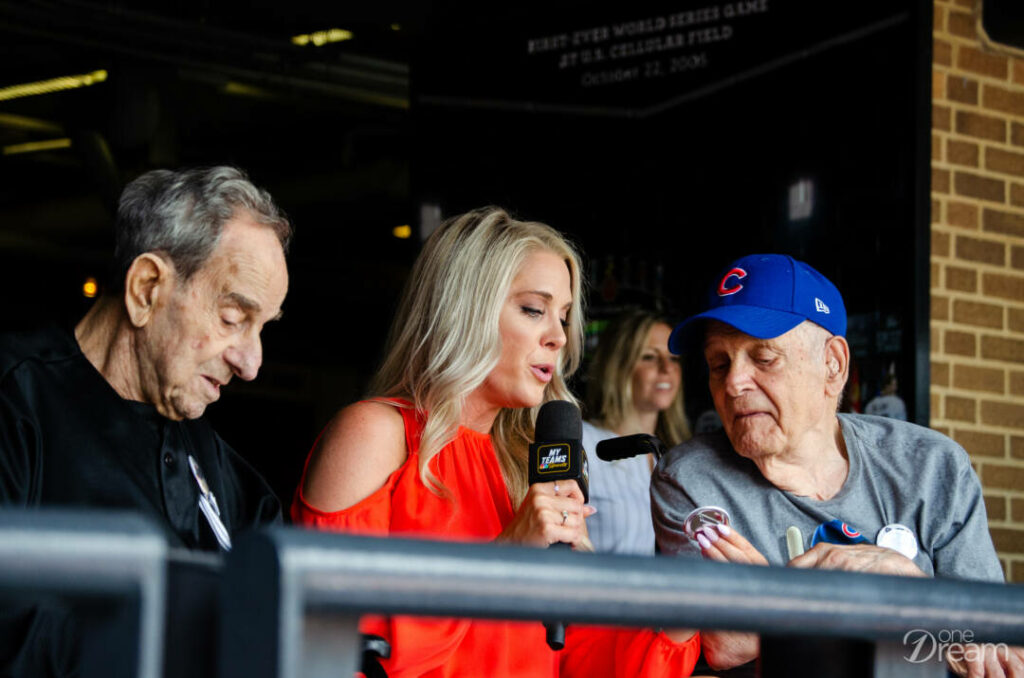 More Photos of Nick and Lou at the Chicago Crosstown Classic
Thank you to the Chicago White Sox for donating tickets to the game. Special thanks to Christine O'Reilly, Sheena Quinn,  Jamie Bronska, and everyone else who went the extra mile to give Nick and Lou a special day. You made the experience so much better than we ever expected.
Thanks to Central Baptist Village in Norridge for assisting us in finding a professional nurse to take with us, Ian Verano, who gave the team and Nick and Lou peace of mind.  Thanks to Becca Galuska who organized the send-off parade and baseball snacks. Thank you Toni Ferwerda for the personalized decorations. What a blast!
Thank you to the students of Prospect High School for raising money to support this dream with a fundraising T-shirt sale.
Huge thanks to Tiffani Bauer for donating time to capture and edit the beautiful video and photos of the day.
Thank you Cora (10) for volunteering to make Nick and Lou's sign. Cora said she "wanted to be a part of this special moment". And thanks to Two Figs Photography for taking Cora's picture.
Last but not least, thank you to all the generous online donors who made this dream possible.
Gregory Bond
Queenie Burns
ONeal Burns
Amy Burns
Alanna Coombs
Julie Dillon
Louis Dodaro
Lisa Empen
Shirley Hom
Jamie Keller
Jennifer Pretto
Orit Sade
Jamie Sullivan
Tim Swanson
Erin Welborn
Sheila's Zeldin