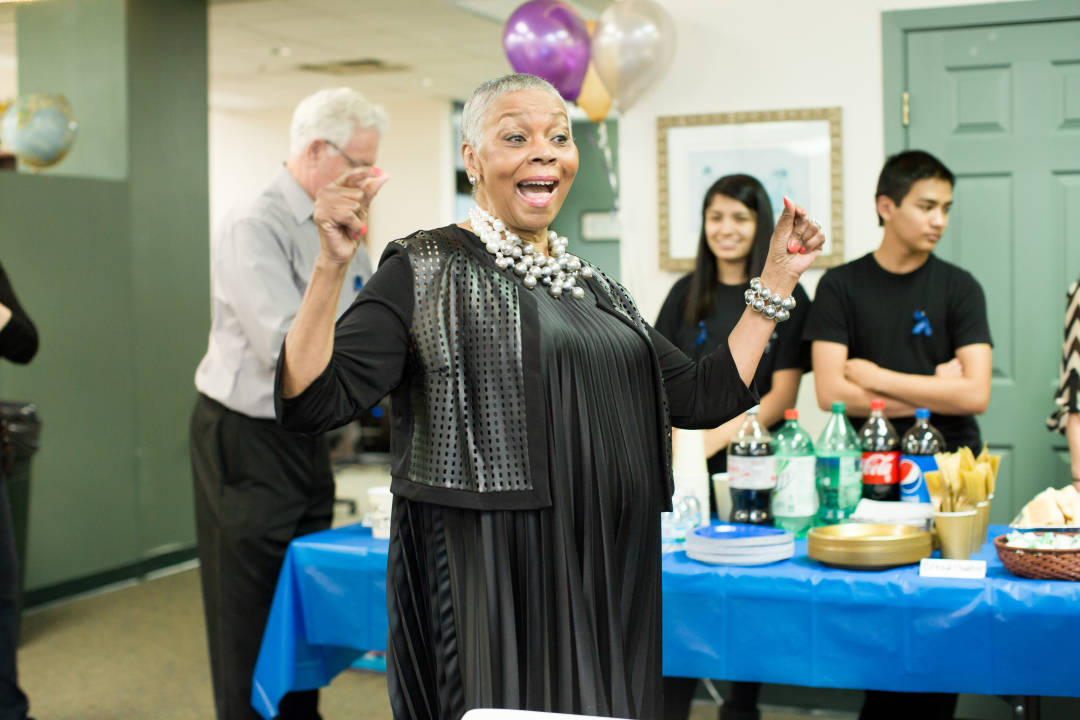 Donate Here
Click the icon above to donate to One Dream.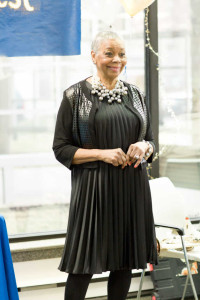 Meet Delores. She's lived in Oak Park for 40 years. Delores currently lives in a low-income senior living community near downtown Oak Park. She's active in her church, and spends her free time making ribbons for cancer patients and calling bingo.
Delores was diagnosed with colon cancer in 2005. She has undergone multiple rounds of chemo and radiation, but the cancer spread further. Through it all, she remains strong and optimistic.
We asked Delores if she could think of her proudest accomplishment. She said, "Being a fighter. Not letting the cancer define who I am, and not just sitting around. Even when I felt bad, I would still go to church or volunteer at the economy shop in Oak Park."
Delores says that she could never have survived her cancer this long without the support of her family, friends, and great doctors. Her One Dream is to have a big dinner with all of them to say "thank you" for being her support system. Her selfless dream moved us, and we decided to do all we could to make it happen.
Delores' dream came true on Sunday, January 31st, 2016, thanks in big part to the Sophomore Class Board from Prospect High School. These generous students donated their time to make Delores' dream a reality. For weeks, they meticulously planned all the details of the event.
We at One Dream are passionate about connecting the youth in our communities to older adults, because the benefits to both sides of those relationships are undeniable. There's a whole lot we can all learn from each other. We were overjoyed as we watched the students' genuine, empathetic passion while they worked on the event. 
The students had creative ideas to make the event more memorable, such as a scrapbook that Delores would take home afterwards. All the guests were encouraged to have their photos taken at a beautifully decorated Polaroid photo station, and then to write a message to Delores on a card. By the time they were done writing their message, their photo would be developed so that their hand-written, photo-stamped messages could be crafted into the pages of the scrapbook!
Prior to the event, the students prepared decorations, signs and to-do lists to be ready for the day.
The centerpiece was the huge banner that read, "The darkest nights produce the brightest stars." Beautiful words, perfectly capturing Delores' bright positivity that has persevered through her exhausting battle.
Delores' guests included friends, family, neighbors, and more! She made sure everyone knew how proud she is of her daughter and three granddaughters.
Delores' dreamed of live music at her thank you dinner, so guests were entertained by a very talented trumpeter and vocalist who played jazz and soul music for the whole event.
Before dinner, all Delores' friends visited each other and enjoyed the music.
Once everyone had their seats, Delores took the opportunity to say a few words. Her heartfelt gratitude to all her guests, to God, and to the people involved with this event was truly touching. Everyone she cares about was able to share a moment of love and thanksgiving; reflecting together – if only for a few minutes – on the importance of the relationships in all our lives.
Delores spoke eloquently; the purity of her words undeniable, "To my dear friends, thanks for walking with me when I needed support, thanks for walking ahead of me when I needed guidance, and thanks for walking behind me when I needed someone to watch my back. I would rather thank you today for being such amazing friends, rather than regret not having said these words to you after life's journey comes to an end."
More Photos of Delores' Thank You Dinner
Thank you to the Sophomore Class Board from Prospect High School for generously donating your time and creativity to planning and coordinating Delores' dream come true.
The party couldn't have been the success that it was without all of you.
Thanks to the Oak Park Housing Authority for allowing us to use the common area at Mills Park Tower to make Delores' dream come true. It was wonderful that Delores was able to invite her friends in the building to attend her party.
Finally, thank you to the many generous online donors whose contributions made this event possible. Thank you all!
Amy Barrington
The Baxter Family
Adam & Kristin Benwitz
The Borta Family
The Butz Family
Robert Chandler
Frank & Sandy Cosentino
Katie Cosentino
Tina Cosentino
Sydney Evangelista & Family
Jill Hoff
Brian & Kimberly Wood
Alli Luft
Julie Magiera
Ruth McMahon
The Moorman Family
Caitlin Regan
Linda Salavitch
The Schoen Family
Donna Serio
Jan Sowa
Kevin Stoll
Kathy Sweezy
Tony & Donna Wade
Donate Here
Click the icon above to donate to One Dream.